Hong Kong Geopark North East Wonder Geo Tour 東北地質深度遊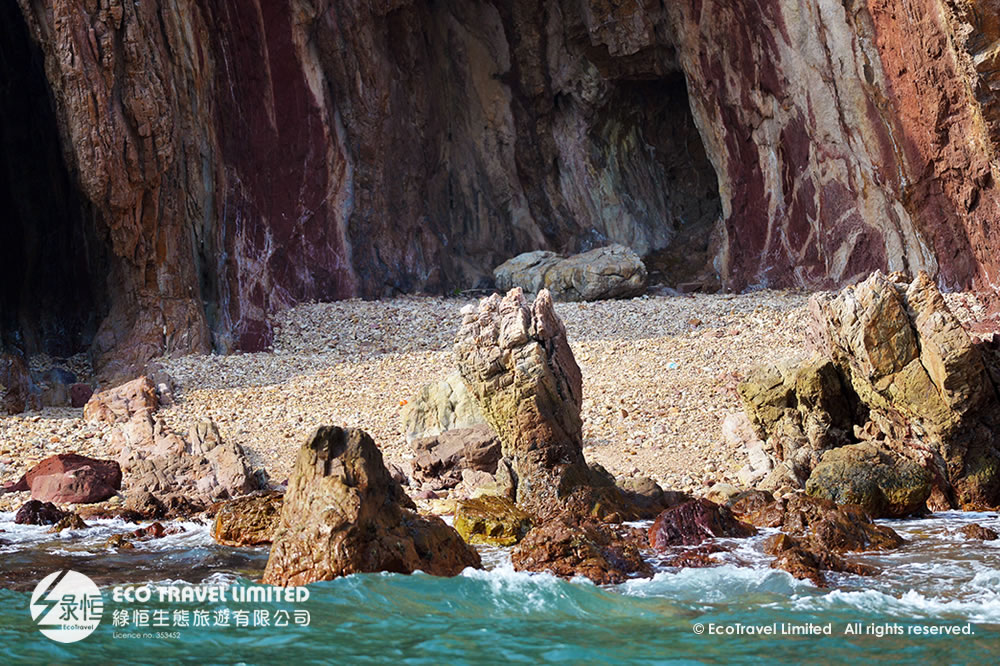 Duration: 8 Hours (approx.)
Location: Hong Kong
Product code: IT_007
As part of the Hong Kong Global Geopark of China, the Northeast New Territories Sedimentary Rock Region represents the most comprehensive stratigraphy in Hong Kong. On this leisurely boat trip, you will discover the scenic beauty of Tolo Channel and Yan Chau Tong Marine Park (Double Haven). Excursions to the Lai Chi Woo Hakka village, provide an amazing "off the beaten track" taste of Hong Kong.
新界東北沉積岩園區是中國香港世界地質公園的一部分、提供全面的地質教育課。 乘船遊覽、您會發現赤門和印洲塘海岸公園的大自然美態、也能感受鴨洲和荔枝窩客家村的悠閒生活。

Tour Highlights
Explore the reddish sedimentary by crossing the Hung Shek Mun
Explore the scenic Double Haven Marine Park
Tour Lai Chi Wo – mangrove, wetland ecology and Local Hakka village
Professional Geopark Guides Interpretation
特色:
漫遊可媲美蘇杭美景的印州塘海岸公園
到訪香港東北最大的客家村落,了解客家文化及風水佈局
解開「鬼手岩」形成之謎
地質公園導賞員專業解說
Itinerary
Route: Ma Liu Shui Public Pier > Tolo Channel (on Boat) > Hung Shek Mun (on Boat) > Double Heaven (on Boat) > Lai Chi Wo (on Land) > Ma Liu Shui Public Pier
行程:
路線:馬料水碼頭 > 乘船遊赤門海峽 > 紅石門(乘船) > 印州塘海岸公園 > 荔枝窩 > 馬料水碼頭
What is included
Professional GeoPark Guide (R2G) (Mandarin/English speaking)
Round-trip transportation from the Northeast New Territories Sedimentary Rock Region to start/end point (Public Boat)
Insurance of HK$100,000 for accidental death and disablement (per accidental limit)
費用已包括:
專業地質導賞員(普通話/英語導賞)、
來回東北沉積園區交通費
10萬元平安保險
What is not included
Hotel pickup and drop-off
Lunch
費用不包括:Remarks
Personal Overseas Travel Insurance is Highly Recommended.
Date and timing of the Guide schedule might be changed by tour guide on spot depending on the traffic, weather and the environmental condition etc. on spot according to the principle of safety.
Itineraries are subject to change without prior notice due to local conditions, transportation changes or if any unexpected circumstances (like Heavy Rain, Earthquake, War or Natural Disaster). We reserve the right to re-arrange, cancel or replace the elements of the itinerary. We are not responsible for any loss if tour itinerary / timing of transportation changed in response to unforeseen circumstances.
備注:
強烈建議自備個人海外旅遊保險
因交通、天氣及其他環境因素,導賞員會以客人安全為前提對行程的時間及地點作調整
行程會因應環境、交通情況及其他突發事件(例如大雨、地震、戰爭或天然災害等)而有所變更,我司不會作事先通知。我司保留更改、取消或更換為其他景點的權力,並且不會承擔任何因以上無法預計情況下的行程更改所引致的損失。