Geopark Wonders Walk: Hexagonal Columns 萬宜六方世界地質遊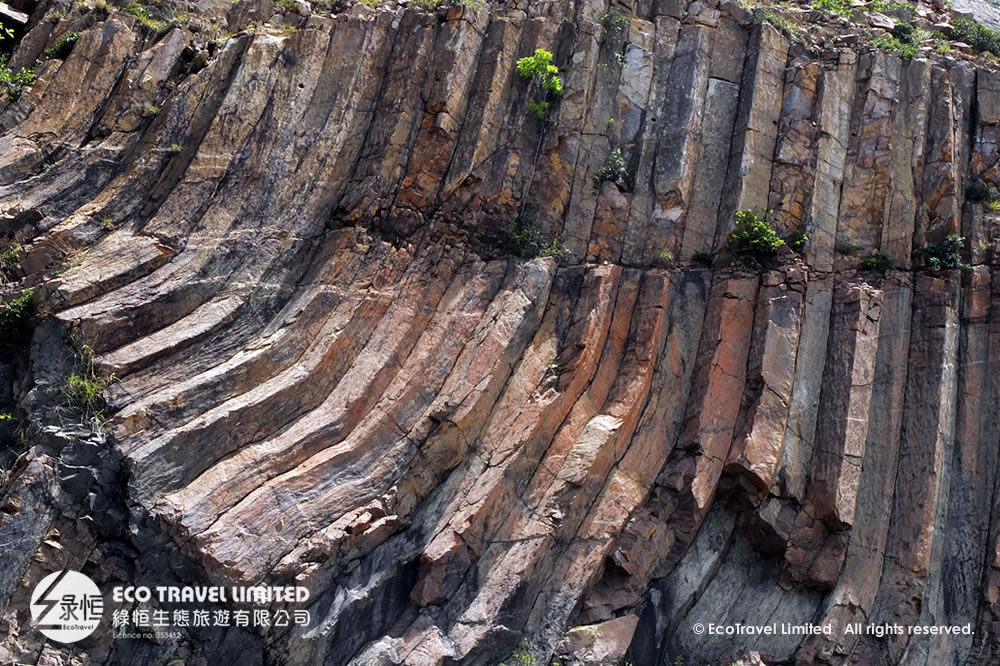 Duration: 4 Hours (approx.)
Location: Hong Kong
Product code: IT_004
High Island Reservoir is one of Hong Kong's most popular geological sites with the wonderful volcanic rock, which composes of giant polygonal joint columns. Amongst these the Hexagonal Volcanic Rock Columns are most typical Geo Wonders and rarely found in the world.
萬宜水庫東壩一帶是觀賞火山岩勝地,也是香港最奇特地質景觀的所在之處。火山岩整齊有致地豎立於水濱,巨型石柱由不同的多角形節理組成,嘆為觀止,典型的六角形節理岩柱更是引人入勝,無論規模、面積、岩質都是世界罕見!

Tour Highlights
Sai Kung Volcanic Rock Region of the Hong Kong Global Geopark of China
World class Hexagonal Volcanic Rock Column formation at East Dam of High Island Reservoir
Closely observe Hexagonal Volcanic Rock Column with diameter over 1.2m
Professional Geopark Guides Interpretation
特色:
鄰近市區的世界級地質步道
世界罕見的酸性火山岩六角節理岩柱
近距離欣賞平均直徑達1.2米之六角形岩柱
專業地質導賞員全程講解
Itinerary
Pavilion on the dam:Overview of the establishment of GeoPark and history of High Island Reservoir
Downhill path:Explanation of rocks classification
S-shaped rock pillar:Geo-tour guide of intrusive rock, joints and faults
Breakwater:Appreciation of Po Pin Chau, sea cave and understanding of the function of anchorate breakwater
行程:
東壩主壩:縱觀萬宜地質步道及萬宜水庫的歷史
萬宜地質步道:了解岩石的分類
S型石柱群:了解入侵岩、結理及斷層的形成
防波堤壩:遠觀破邊洲、海蝕洞,錨形石防波堤作用
What is included
Professional Geo Park Guide (English/Mandarin speaking)
Round-trip transportation from Sai Kung Town Centre to High Island Reservoir (Taxi)
Insurance of HK$100,000 for accidental death and disablement (per accidental limit)
費用已包括:
專業地質導賞員(普通話/英語導賞)、
來回東壩及西貢市交通費
10萬元平安保險
What is not included
Hotel pickup and drop-off
Lunch
Personal expenses
費用不包括:Remarks
Personal Overseas Travel Insurance is Highly Recommended
Date and timing of the Guide schedule might be changed by tour guide on spot depending on the traffic, weather and the environmental condition etc. on spot according to the principle of safety.
Itineraries are subject to change without prior notice due to local conditions, transportation changes or if any unexpected circumstances (like Heavy Rain, Earthquake, War or Natural Disaster). We reserve the right to re-arrange, cancel or replace the elements of the itinerary. We are not responsible for any loss if tour itinerary / timing of transportation changed in response to unforeseen circumstances.
備注:
強烈建議自備個人海外旅遊保險
因交通、天氣及其他環境因素,導賞員會以客人安全為前提對行程的時間及地點作調整
行程會因應環境、交通情況及其他突發事件(例如大雨、地震、戰爭或天然災害等)而有所變更,我司不會作事先通知。我司保留更改、取消或更換為其他景點的權力,並且不會承擔任何因以上無法預計情況下的行程更改所引致的損失。