Geopark Boat Tour: Sai Kung Islands 西貢古火山海路漫遊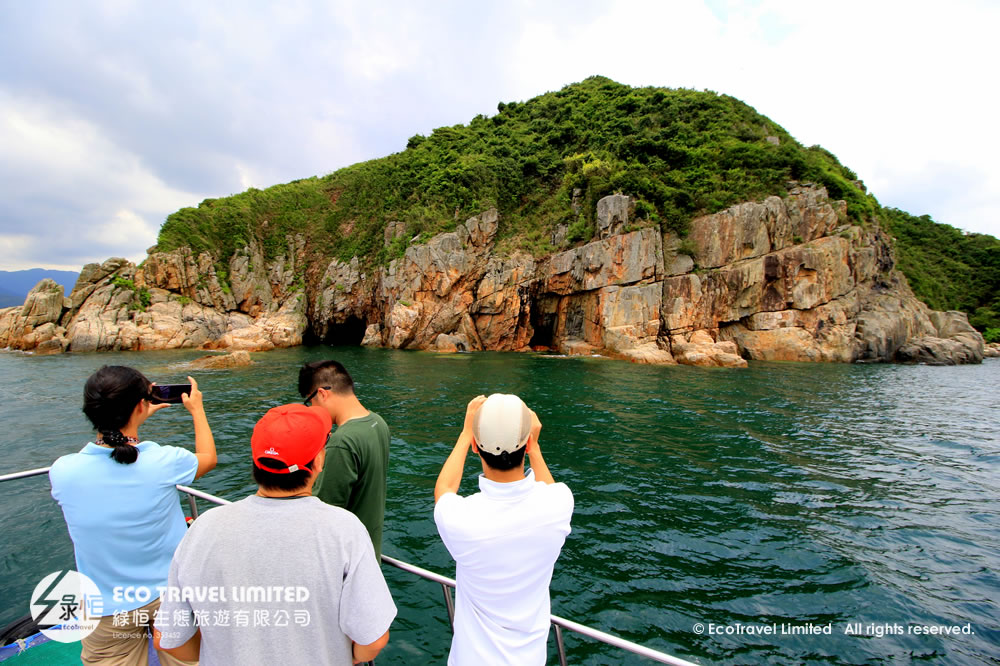 Duration: 3 Hours (approx.)
Location: Hong Kong
Product code: IT_001
Sai Kung boasts the longest stretch of coastline in Hong Kong, and the most numerous outlying islands. Some islands are unique in natural scenery that they adorn the sea like luminous pearls. Others feature extraordinary rugged profiles and rear up abruptly from the water.
Sai Kung is a unique region of imposing rich geodiversity. These famous geosites include the magnificent sea stacks, the breathtaking tubular rock columns and sea caves, the typical coastal terrain, rare acidic hexagonal volcanic rock columns of High Island, and rhyolite on Sharp Island.
西貢擁有全香港最長的一段海岸線,亦是島嶼最多的區域,有些島嶼景致別具風韻,恰似顆顆閃爍明珠;另一些則輪廓獨特,屹立碧海,風貌雄奇。
多種多樣的地質特色,其中包括雄偉的海蝕柱、巧奪天工的海蝕穴、典型的海岸地貌、糧船灣罕見的酸性六角型火山岩和橋咀洲的流紋岩。

Tour Highlights
Boat Tour of Sai Kung Volcanic Islands
Magnificent hexagonal volcanic rock columns and coastal erosion landforms
Traditional Sai Kung Fishing village Sampan or boat experience
Professional Geopark Guides Interpretation
特色:
西貢海上暢遊,穿梭火山岩小島
壯麗六角柱石海蝕地貌地貌
地道漁村小艇及舢舨體驗
地質公園導賞員專業解說
Itinerary:
Route: Sai Kung > Kau Sai Chau > High Island > Bell-shaped Arch > Elephant trunk cave > Land on Sharp Island (Approx. 30mins) > Sai Kung


行程:

路線:西貢碼頭> 滘西洲 > 糧船灣 > 吊鐘洲海蝕拱 > 象鼻洞 > 橋咀洲登岸(約30分鐘) > 西貢碼頭
What is included
Professional Geopark Guides (English/Mandarin speaking)
Boat tour of Sai Kung Islands (Boat)
Insurance of HK$100,000 for accidental death and disablement (per accidental limit)
費用已包括:
專業地質導賞員(普通話/英語導賞)、
參觀西貢島嶼船費
10萬元平安保險
What is not included
Hotel pickup and drop-off
Lunch
Personal expenses
費用不包括:Remarks
Personal Overseas Travel Insurance is Highly Recommended
Date and timing of the Guide schedule might be changed by tour guide on spot depending on the traffic, weather and the environmental condition etc. on spot according to the principle of safety.
Itineraries are subject to change without prior notice due to local conditions, transportation changes or if any unexpected circumstances (like Heavy Rain, Earthquake, War or Natural Disaster). We reserve the right to re-arrange, cancel or replace the elements of the itinerary. We are not responsible for any loss if tour itinerary / timing of transportation changed in response to unforeseen circumstances.
備注:
強烈建議自備個人海外旅遊保險
因交通、天氣及其他環境因素,導賞員會以客人安全為前提對行程的時間及地點作調整
行程會因應環境、交通情況及其他突發事件(例如大雨、地震、戰爭或天然災害等)而有所變更,我司不會作事先通知。我司保留更改、取消或更換為其他景點的權力,並且不會承擔任何因以上無法預計情況下的行程更改所引致的損失。